Maybelline
Maybelline was a child of the sixties, a sleek, hard-bodied good looker with tons of sex appeal and a great rear-end. At twenty-five she'd be a classic, an aging beauty queen, her leathery interior softened and all her chrome-jewelry glistening. She was our smooth butter-yellow '69 Cadillac Coupe de Ville, and for years she gave us first-class cruise service and dependable power with few demands beyond regular meals: quarts of slippery oil and high-lead, high-octane gasoline cocktails.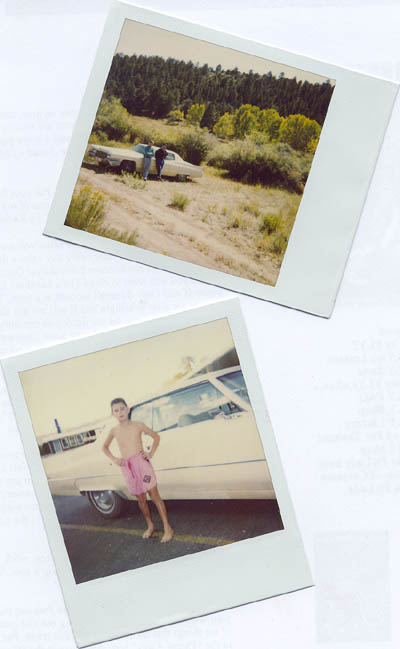 We moved to Corrales from Taos in an old Jeep Wagoneer full of houseplants, art and cats. Like the cats, and the plants, that Jeep is gone, having steadily disintegrated over several years. Our budget for a new car was limited, while our family had grown. The best buy in the papers for a big car was heavy metal. Maybelline came to us smoking and spitting for $1100, and all she needed was new rubber and hoses, having been left out to dry for a long time in a south valley backyard.
These were the days before mini-vans and sport-utility ubiquity ruled the suburbs. Corrales is a 250-yr.-old self-conscious suburb of a western strip town, stubbornly protecting a green, irrigated valley of the Rio Grande which has been continuously cultivated for over ten thousand years. Maybelline made her own niche as far as image was concerned, by combining the old-money appearance of privilege with lowrider destiny. Everyone loved her.
No, she was never politically-correct, but her practical elegance was undeniable. A proud product of the height of American motor supremacy, she drew admiration from K.C., the Cadillac maven-- Harley-riding, wildman-savant adobe-shade-tree mechanic she introduced us to--who kept her lubed and purring into the 'eighties.
Maybelline's creamy leather tuck-and-roll back seat was broad and deep as a parlor sofa. She was warmer in the winter and cooler in the summer than our house. Rocking babies to sleep was her specialty, and her hi-fi radio could be a lullaby or a singalong-- those oldies but goodies. While chaos reigned in the house, Robert and I could sit out in the backseat on spring evenings with the doors open, drinking wine in crystal glasses as the light lengthened into gold. '69 was a fine year.
Maybelline had a trunk that could amply transport five peoples' bags and bedding for a week-long road-trip, with ease. She could handle three bales of hay, a month's load of groceries, odd-shaped oversized flea market finds, lumber yard runs, trees and bushes and cedar chips. A horse had actually gnawed on her fender once. She was a tough chick.
Her underbelly was a fortress no bumps or grinds could dent. Once I took a wrong turn on the map looking for a shortcut to Girl Scout camp. Maybelline took us right over the pumice pass of the Jemez Mountains, teetering on the talcum top, and skittering down the other side. Low as she could go, she didn't bottom out or lose ground, since she also had a great granny gear. That baby was just the best. Anywhere you wanted to go, from washboard valley roads to valet parking, Maybelline took you in style.
On Valentine's Day 1987 our children Ariana and Sion Ben were abruptly disenrolled from Corrales Elementary when a measles epidemic threatened the vaccinated population to which they did not belong. One measly case constitutes an epidemic, according to state disease authorities, so everyone else got booster shots, and our kids came home.
We were suddenly homeschoolers, with a two-year-old, too. Soon after that shock sunk in, we felt free and renewed, unencumbered by the schedules and demands of the system. What should we do? Road-trip, said Maybelline.
We piled the kids and lots of other stuff in Maybelline, and headed south for Carlsbad Caverns to see what was under the ground. Bats and guano and weird drippy rocks was the answer to that. In the days before seatbelts became unquestionable, we questioned our sanity in the rolling playhouse that was the Cadillac. Max spent hours stretched out like a cat stark-naked on the rear window shelf, passing time by repeatedly rolling off onto the seat, climbing back up and rolling off again.
Maybelline took us on many trips to see the peaks, river valleys, ghost towns and hot springs of Colorado and New Mexico, usually caravaning with family and friends. Once we forgot Max at the Ponchas Pass truck stop, thinking he was in the other car! We went back to find him enjoying a hot fudge sundae with a worried waitress.
Although it seemed she never needed major repairs, we became concerned that Maybelline might strand us, or we'd be towed home a hundred miles someday. Small parts began to fail, requiring lengthy searches through junkyards—her cruise control, windshield wiper pump, a neutral safety switch. A neutral safety switch, what's that?
Robert had seen a Buick station wagon on a carlot one day, and he said it was a good buy. Loaded, an Estate Wagon, a big shiny beast–the last year of its model. I went to look at it and shook my head—No way, I wouldn't even get in it. Ozzie and Harriet's car, a grocery go-getter, Little League-mom car-pooling Buick station wagon with fake wood sides and working seatbelts? I would never drive that. But it was a really good buy, no doubt, at ten times what we paid for the Cadillac—about what my parents paid for a four bedroom house in 1956.
Maybelline broke down and stranded me in the Bag 'n Save parking lot that very day, and this time it wasn't a problem that could be fixed with a jump of juice or a hammer-blow to the solenoid. She was an old lady with wrinkles, and cracks in her back-seat. Ariana was clearly ashamed of her. Oil was leaking from somewhere in her private parts, and the new gas stations didn't carry her cup of tea anymore.
We took the Buick station wagon for a test-drive and never took it back. It was the perfect scenic ride for two happy retrievers, and they moved right in. Skis and saddles, balls and bats, cross-town commutes and airport pickups were handled. We would have to get used to each other.
As a family we pondered Maybelline's future: nursing home or junkyard? Max was particularly attached to her, the only car he'd ever known. We considered putting her out back to pasture as a work of art, commonly a New Mexico lawn ornament. Instead, she went off with Emily for $600 and trade. She could be seen tooling up and down Corrales Road for years after that.
One day I pulled out in traffic and came up behind her—our Maybelline. Robert and I looked at each other and whistled, thinking the same thought. She really did have a great rear-end.